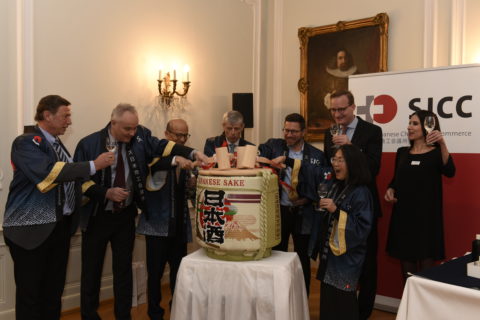 Date
Monday, January 8, 2024 17:15
-
21:00
Location
Zunfthaus zur Meisen




Münsterhof 20




8001

Zürich




Switzerland
Speakers
Dr. Markus Naegeli

Chairman and CEO of Canon (Schweiz) AG

Martin Herb

President SJCC

H.E. Yoshinori Fujiyama

Ambassador of Japan
Organisation
Swiss-Japanese Chamber of Commerce
Fee
SJCC Members: CHF 60.-
Non-Members: CHF 100.-

(full no-show fee and late cancellation fee after 3 January 2024)
Registration
Registration until 3 January 2024
Innovation and Sustainability: 66 Years of Canon in Switzerland
Switzerland and Canon, the world's leading company in the field of imaging technology, are connected by a high level of innovation and a strong focus on sustainability.
In his presentation, Dr. Markus Naegeli, CEO of Canon (Schweiz) AG, will discuss the company's close ties and shared values with Switzerland. Since its foundation in Japan in 1937 and the establishment of the first European commercial branch in Geneva in 1957, Canon has continuously developed innovative technologies to meet the ever-changing needs of the Swiss and European markets – including advanced camera systems, innovative printing and software solutions and solutions in the medical industry. The Swiss subsidiary has always played a pioneering role in the development and adaptation of new technologies and solutions, resource-saving products and environmentally friendly processes.
After completing his studies and doctorate in natural sciences at ETH Zurich and a post-doc in the USA, Dr. Markus Naegeli worked for several years as a business consultant specializing in high-tech and ICT starting at Helbling Management Consultant and later as a partner in his own company with 25 employees. In 2002, he became Business Unit Director at Canon (Schweiz) AG. From 2005 he headed the service business for Canon EMEA in London. At the end of 2007, he was appointed CEO of Canon (Switzerland). From 2015-2018, he took over the management of the Business Imaging Group EMEA as Executive Vice President in London. He has been Chairman and CEO of Canon (Switzerland) AG again since the end of 2018.
Program
17:15 Registration
18:00

Welcome, Martin Herb, President SJCC
Innovation and Sustainability: 66 Years of Canon in Switzerland, Dr. Markus Naegeli, Chairman and CEO of Canon (Schweiz) AG
Toast/Speech, H.E. Yoshinori Fujiyama, Ambassador of Japan
Sake Barrel Opening Ceremony "Kagami-Biraki"
Apéro Riche with Sushi of SJCC Member Bimi