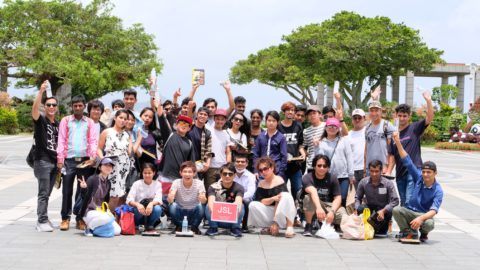 In 2017, JSL Nippon Academy and the SJCC Scholarship Fund started a 3-year partnership. This partnership was established through SCCIJ, the sister chamber in Tokyo. Through this partnership many scholarship candidates will have peace-of-mind when searching for a good language school in Tokyo or Okinawa. Let us explain why in the following article.
Development of Student Skills for Academic and Professional Success
Japanese Language School "JSL Nippon Academy" was established in 1986. We have supported each student's dream to come true for over 30 years. Our basic idea is "Sincerity". We receive their enthusiasm to study Japanese and Japanese culture. We make use of our experiences and give guidelines with kindness and politeness.
We make sure to strengthen the foundation of basic Japanese and have them on the path towards Technical school/Vocational school or University, and business as a next step. We wholeheartedly support students in order to succeed globally with excellent use of Japanese!
Locations: Okinawa and Tokyo
Not only is there the Okinawa Campus, which has a peaceful environment surrounded by beautiful nature, JSL Tokyo Campus is available at the center of politics, economics and culture while living and studying in Japan.
Learning Japanese culture and manner
Japanese proficiency indeed, we also offer a place to learn overall knowledge of Japanese culture and lifestyle protocols in Japanese society to become independent and successful within Japan.
Well experienced
We proudly offer more than 30 years of experience since JSL was established, where many students have travelled from all over the world to study Japanese. (Switzerland, France, Germany, Italy, Spain, Belgium, Sweden, Slovakia, Poland, Norway, Russia, United States, Brazil, Peru, Argentina, Columbia, Nigeria, Sri Lanka, Thailand, Philippines, China, Taiwan, Korea, Indonesia, Vietnam, Myanmar, Nepal, etc…)
Contact
Make sure to consult our webpage for further information (http://www.jslnippon.jp/) and do contact us personally in case of any questions ([email protected]).
We are happy to support you in the decision making process to find the perfect language school for you in Japan. Join JSL Nippon Academy and become part of the family!