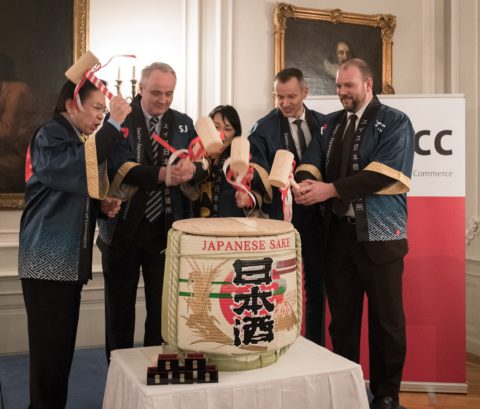 Happy New Year 2018!
Dear Members
I wish you a happy New Year! 2018 will, I very much hope, be a successful and challenging year in a rapidly changing world, which needs even more steady development.
In 2018, the Chamber will continue the dynamic development started two years ago. The SJCC will continue its activities and increase its membership numbers to enable all members to benefit from a high level of information exchange, networking activity, and visibility.
Shinnenkai 2018 with Record Attendance
Our first event in 2018, the traditional new year reception "Shinnenkai", took place on 15 January with a record attendance of 120 guests. Dr. Daniel Kalt, Chief Economist of UBS Switzerland, presented an Economic Outlook for 2018 and beyond at the Zunfthaus Meisen in Zurich.
His presentation was followed by the "Kagami-Biraki" sake-barrel opening ceremony. For this ceremony the SJCC could also welcome SJCC Honorary Chairman, H.E. Etsuro Honda, Ambassador of Japan to Switzerland. Further special guests included Ms. Tomoko Kobayashi, executive Director Wealth Management at UBS Switzerland as well as Professor Daniel Seelhofer, Head of the International Management Institute at the Zurich University of Applied Sciences that is hosting the office of the SJCC.
Impuls Event: Japan
On 27 February, the Chamber will collaborate with Jetro Geneva and Switzerland Global Enterprise (S-GE) in hosting the Impulse Event: Japan. This after-noon seminar will focus on the topic of Business Opportunities for Swiss SMEs in Japan. It will feature a number of high-level speakers such as Thomas Seiler, CEO of Ublox, Noel Matos, Head Strategic Internationalisation of M-Industry, or Ambassador Eric Jakob, Head of the Promotion Activities Directorate at the State Secretariat for Economic Affairs (SECO).
At the seminar Prof. Dr. Patrick Ziltener will present the first analysis on how the new Free Trade Agreement (FTA) between Japan and the EU will affect the competitiveness of Swiss companies doing business in Japan. On 12 December 2017, National Councilor Elisabeth Schneider-Schneiter, President of the Parliamentary Friendship Group Switzerland-Japan, had already submitted a Parliamentary Interpellation to the Federal Council asking for a review of the Agreement on Free Trade and Economic Partnership between Switzerland and Japan (JSFTEPA) from 2009. The SJCC will follow those developments closely.
Anniversary SJCC Scholarship Fund
Further events will be announced in due time. In the meantime, please save the date to celebrate the 30th Anniversary of the SJCC Scholarship Fund on 1 October. The Scholarship Fund of the Swiss-Japanese Chamber of Commerce was created on 1 October 1988. 30 years later, we are celebrating the ongoing success of this long-term activity of the SJCC. This could be a great opportunity for you to consider becoming a donor of the fund. The Chamber will be happy to provide you with further details.
New Board Members from Sika AG and University of Zurich
Finally, I would like to inform you that the Board of our Chamber has recently received two new members, who represent the construction business, on the one hand, and academia, on the other, which will promote the exchange of knowledge from different sectors:
Prof., Dr. Christian Schwarzenegger, Vice President of Law and Economics, in charge of international affairs at the University of Zurich, is contributing his expertise as an academic and his close ties to Japanese universities. And Koichi Oba, Head of Corporate Target Market Roofing at Sika has extensive industrial experience from doing business in Japan and Switzerland.
It will be a great pleasure to see you again at the Chambers' events in 2018.
Best regards
Martin Herb
SJCC President