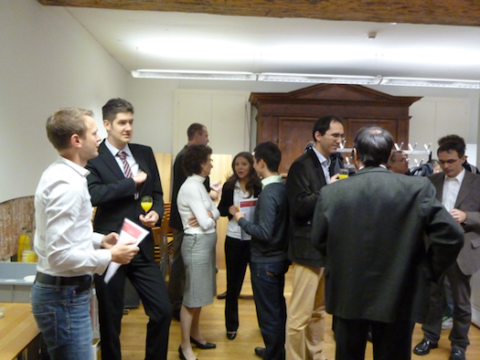 Date
Friday, October 15, 2010 09:00
-
16:00
Location
Kulturhaus Helferei




Kirchgasse 13




8002

Zurich




Switzerland
In Cooperation with
Swiss-Japanese Chamber of Commerce

Hosei University

University of Zurich

Alumni Japanologie der Universität Zürich

Swiss-Japan Association for Engineers and Scientists

Swiss-Japanese Heritage Club
Join us at the Japan Gate to network and exchange personal experiences and thoughts on Swiss-Japanese business culture.
The Japan Gate Seminar is Focusing on experiences made by Alumni of the SJCC Scholarship Fund and other people working formerly in Japan, we would like to offer an open platform for participants to exchange their experiences and ideas related to working in and related to Japan.
It shall be a place to network and build new bridges. Also the event shall initiate increased communication between the different Swiss-Japanese networks in existence.
The Japan Gate Seminar is open to different Swiss-Japan communities: Students, graduates and alumni, companies seeking Japan experienced recruits, present and future sponsors of the SJCC Scholarship Fund.
We are looking forward to welcome you!
Program:
09:00
INTRODUCTION
JAPANGATE – INTERACTIVE EXCHANGE
Welcome Message by Gregory Glanzmann, President of the SJCC Alumni Organisation
09:10
THE SJCC SCHOLARSHIP FUND IN 2010
Speech by Paul Dudler, Chairman of the SJCC Scholarship Fund
09:30
SOCIO-SCIENTIFIC JAPANOLOGY
THE NEW CHAIR
Prof. Dr. David Chiavacci (Mercator Professur) University of Zurich
10:00
CHALLENGES IN ACADEMIC COLLABORATION: JAPAN – SWITZERLAND
PLENARY SESSION
Prof. Dr. Claude Siegenthaler, Associate Professor Hosei University
Prof. Dr. Andreas Züttel, (Head of Division) EMPA Materials Sciences and Technology Dept. Environment, Energy and Mobility
Dr. Martin Zulliger, Senior Researcher, SCANCO Medical AG
11:00
BEING A MONK AND ENTREPRENEUR IN JAPAN
A PORTRAIT OF MR. MARUBAYASHI
Video by Stefan Yanku, SJCC Alumni. Followed by an open discussion.
12:00
LUNCH
WASHOKU OBENTO
Japanese Food and Drinks.
Sake Tasting by Japan Concierge AG
Please order your Obento below.
13:00
POINTS OF VIEW
SESSION I: USEFUL EXPERTISE FOR A WORKING STAY IN JAPAN
Gregory Glanzmann, SJCC Alumni, arushi GmbH
Hermann Escher, SJCC. Former Head of Swiss Business Hub Japan
Stephanie Escher, Georg Fischer AG
14:00
EXPERT VIEWS
SESSION II: QUO VADIS JAPAN?
Benjamin Hartmann, SJCC Alumni
Werner Enz, Editor NZZ. Former Japan Correspondent.
Live video conference with Ralph-Andreas Stamm, SJCC Alumni / ISN ETHZ & Dr. Felix Moesner, Head Science & Technology Office at the Embassy of Switzerland Tokyo.
15:00
CHALLENGES FOR SWISS-JAPANESE ORGANIZATIONS
WHERE CAN SWISS-JAPANESE ORGANISATIONS WORK TOGETHER IN THE FUTURE?
Panel discussion with representatives of SJCC Alumni, SJHC, SJA, Japanology Alumni
15:50
CLOSING WORDS
Gregory Glanzmann