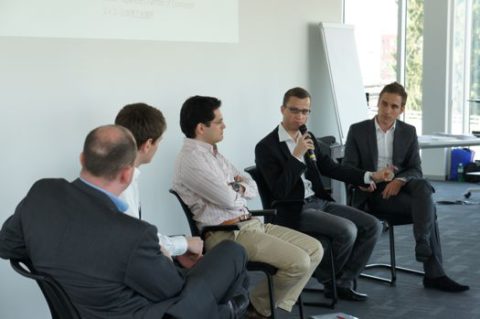 Date
Sunday, April 10, 2011 11:00
-
14:30
Location
Sony Europe Limited, Switzerland Branch




Wiesenstrasse 5




8952

Schlieren




Switzerland
AGM 2011
1. Welcome by the President
2. Minutes of the AGM 2010
3. Annual Report and Accounts 2010
4. Discharge of Board Members
5. Reelection of old and election of new Board Members
6. Activities 2011/12
7. Any other Business
Brief introduction on the latest developments with the SJCC Scholarship Foundation by its Chairman Paul Dudler
Discussion: SJCC Alumni Lucas Kruettli, Dominique Ursprung, Stefan Yanku
Scholarship Alumnus Lucas Kruettli is in an Internship at Hilti Japan currently. Due to the events in Japan, Hilti has financed his temporary trip back to Switzerland. Scholarship Alumnus Dominique Ursprung has returned from his internship at the Japanese Diet last year and works for the Yomiuri UN office in Geneva. Stefan Yanku lives in Japan, where he owns his own Design firm Acuity GmbH. The discussion will be moderated by SJCC Alumni Vice President Benjamin Hartmann, who works as a Product Manager at Roche in Basel. He was the first scholarship recipient to work for the Japanese Diet in 2003.
Charitable Cause
This event shall support the victims of the disaster in Japan. The difference between cost and entry fee will be going to Second Harvest Japan, a local initiative, which exists since 2002. Their vision is to redirect the waste food of Convenience and Department Stores in Japan to the local poor, which amount to around 17% of the Japanese population. Since the Tsunami hit Tohoku, they have been redistributing their foods to the affected region. Donations are used for fuel and logistics to transport the food provided to them for free. Per CHF 10.- they can redistribute around 100.- worth of food. By supporting this locally active initiative a strong impact can be made.
Chronology of Events
11:00 Get-together
11:30 Begin of the Annual General Meeting
12:00 Presentation by Scholarship Recipients temporarily in Switzerland (with introduction by Paul Dudler)
12:30 Short introduction Japan