Upcoming Events
Japan in 2020: Webinar with the Ambassador of Switzerland to Japan
Date
Thursday, June 18, 2020 12:00
-
13:00
Speaker
Mr. Jean-François Paroz

Ambassador of Switzerland to Japan
Organisation
SJCC Swiss-Japanese Chamber of Commerce
Since 2016, Swiss interests in Japan are represtend by Ambassador Jean-François Paroz. Born in 1960 in Moutier, Canton of Bern, he presented his credentials to His Majesty the Emperor on 20 September 2016.
According to the Federal Department of Foreign Affairs (FDFA), prior to his appointment as ambassador to Japan, Mr. Jean-François Paroz was Switzerland's Ambassador in Budapest. In 2010 he was the Commissioner for the organization of the 13th Francophonie Summit of Head of States in Montreux, Switzerland, and in 2011 the Commissioner of the 31st International Red Cross and Red Crescent Conference in Geneva.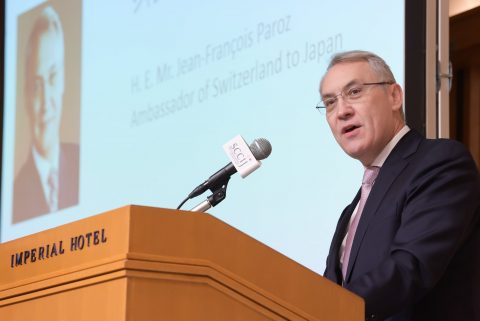 Mr. Paroz holds a licence in history from the University of Lausanne and a graduate diploma in international relations from the Graduate Institute of International Studies in Geneva.