Events
/
Past Events
Beyond Business: The Friendship Between the Yokohama Traders Hermann Siber and Furukawa Ichibé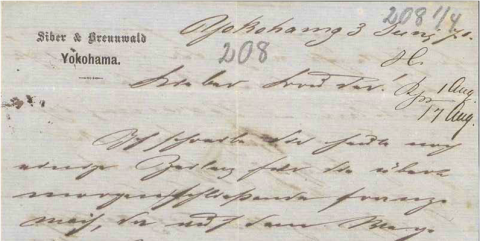 Date
Thursday, November 25, 2021 18:15
-
19:45
Speaker
Alexis Schwarzenbach

CEO, filanda della storia GmbH
In Cooperation with
Swiss-Japanese Chamber of Commerce
Registration
Registration closed
This lecture examines the networks of the Zurich raw silk trader Hermann Siber (1842–1918). From 1866, together with Caspar Brennwald, he established one of the first Swiss trading houses in Japan, which later became SiberHegner and which eventually became part of the trading giant DKSH.
Importance of friendships to establish a transcontinental trading house
The lecture draws on Siber's correspondence with his Zurich-based brother, a previously unexplored set of sources providing insight into Hermann Siber's complex relationships with both Europeans and Asians. The lecture argues that in addition to the networks of family capitalism, friendships were of central importance in order to establish a transcontinental trading house in the 19th century. This will be explored using the example of Hermann Siber's relationship with the Japanese entrepreneur Furukawa Ichibé (1832–1903), the founder of the Furukawa Group.
Alexis Schwarzenbach (* 1971 in Zurich) is a historian, author, and curator. He read Modern History at Balliol College in Oxford and obtained his PhD at the European University Institute in Florence in 1997. His research, books, and exhibitions focus on 19th and 20th century Europe with a special focus on cultural history and transnational entanglements. From 2009 to 2011 he was Senior Curator at the Swiss National Museum in Zurich. In 2015 he became a professor at the Lucerne University of Applied Sciences and Art. He lives in Zurich where he founded the history studio filanda della storia in 2021. His forthcoming book is a history of the Zurich silk industry, which will be published in German and English in 2023.