News
/
2015
SJCC at DMG MORI Global Headquarter Winterthur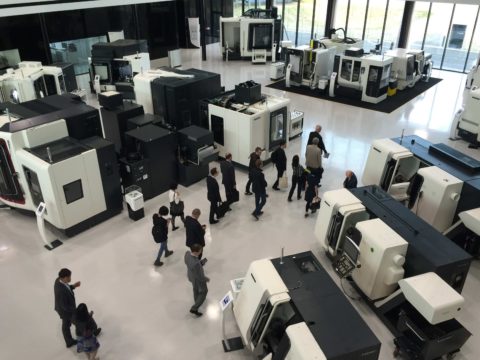 On Friday, the 22nd of May 2015, the Swiss-Japanese chamber of commerce had the possibility to visit the newest success in location promotion of the Zurich metropolitan area. Located in the traditional industrial area of Winterthur, next to well-known companies such as Sulzer, Burckhardt Compression or Zimmer, the world's leading cutting machine tool producer DMG MORI built its head office for sales and service.
Surrounded by the self-produced energy park – serving 100% of the needed electricity for the offices – the building gives the visitor the feeling to enter a hub for high-tech products. Equipped with 22 machines, the 1000 square meter showroom on the ground floor gives an insight in the broad and state-of the-art product portfolio of this hidden giant.
The SJCC was welcomed by the CEO of DMG MORI Europe, Dr. Harald Neun who presented the German-Japanese cooperation, its worldwide sales, service and production network, as well as the newest innovations of DMG MORI. After the presentation, the SJCC was guided in split groups through the building, the energy park and the tech center. The event was closed with an aperitif offered by the hosting company, which gave the possibility to enlarge everyone's network.
Before the visit to DMG MORI, for most of the members of the chamber, the machine tool industry was kind of a dark spot, however the visit to the innovation leader of the market made them realize the tremendous importance. The machine tool, often called the "mother of all machines", is the only machine that is actually producing itself and is indispensable for the production of nearly all of the goods we are living with day by day.