News
/
2016
Successful first SJCC Event in the Romandie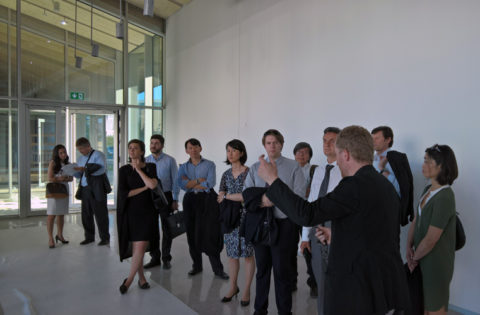 On June 23rd 21 members and guests of the SJCC – filling the meeting room to the last chair despite the very hot weather – gathered at the École polytechnique fédérale de Lausanne (EPFL) for a presentation about the "ArtLab" initiative which is aimed at bringing EPFL research and education closer to the Arts.
Luc Meier, Head of Content for ArtLab, explained the concept of this fascinating initiative which is partnering with the renowned Montreux Jazz Festival or the Fondation Gandur pour l'Art of Geneva. ArtLab also integrates high-profile technological projects of EPFL such as the "Human Brain Project" and the "Venice Time Machine" (see presentation).
After the presentation, Luc Meier guided the participants to the construction site of the "Under One Roof" building, designed by the famous Japanese architect Kengo Kuma. It was an excellent opportunity to visit the site before the inauguration in November 2016. This unique building will provide three distinct spaces for various ArtLab initiatives under one same roof – therefore the name.
Participants were impressed by the functional yet elegant design of the building that uses primarily construction materials from Switzerland but makes references to Japanese architecture (see photos).
The event was concluded with a casual dinner on the EPFL campus.