News
/
2017
Switzerland and Japan – A Long Distance Relationship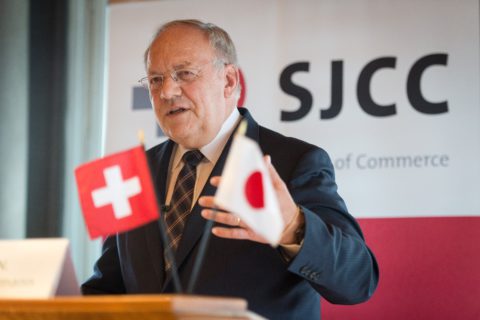 It is a rare opportunity to meet a Swiss Federal Councillor able to speak not only from the point of view of a head of a government department but also as a manager and entrepreneur with extensive past experience – 26 years, in fact – of working closely with companies from Asia.
At the 32nd AGM of the Swiss-Japanese Chamber of Commerce (SJCC), members and guests were fortunate to hear Swiss Federal Councillor Johann Schneider-Ammann share his valuable insights, gained in the course of an impressive career. He spoke about Swiss-Japanese bilateral relations in his role as Head of the Federal Department of Economic Affairs, Education and Research. In addition, he recalled his own personal experiences operating a joint venture with a traditional private Japanese industrial company. Not surprisingly, this inspiring combination of perspectives on Japan has also been taken up by the Swiss media.
Bilateral Trade Topped 11 billion Swiss Francs in 2016
The Federal Councillor started by presenting positive trade figures: In 2016, Swiss exports to Japan amount to CHF 7.5 billion (+14.3%) with imports from Japan of CHF 3.5 billion (+0.8%). In his own words: "Bilateral trade, including trade in precious metals and stones, topped 11 billion Swiss francs for the first time in years, up almost 10% from 2015."
Important Partner for Research
Schneider-Ammann underlined the importance of Japan as "the main Asian partner for Swiss researchers and research institutions." One example, he said, was a recent visit to Japan by the State Secretary for Education, Research and Innovation, Mauro Dell'Ambrogio, who signed a declaration of intent with his Japanese counterpart to strengthen cooperation in the field of science and technology.
Why a Long-Distance Relationship?
At the end of his speech, Federal Councillor Schneider-Ammann explained why he was calling the relationship with Japan – "probably Switzerland's most like-minded state in Asia" – a long distance relationship:
"We have a long distance relationship because our relationship is so good. That may sound like a paradox, but I believe it is not. A long-distance relationship only works if the partners know each other well, know they can rely on each other, and also know that they can pick up the conversation quickly if need arrives."
New Challenge: Renewing the FTEPA of 2009
He concluded that meeting each other face to face was crucial to maintain this well-established relationship. One such opportunity is the bilateral Free Trade and Economic Partnership Agreement of 2009: "After almost eight years of operation, we should look into areas we can still improve it, or bring it up to the standards of the FTAs we conclude these days."