News
/
2021
Annual Reception of the Parliamentary Group Switzerland Japan
On 14 September 2021, the SJCC hosted its annual reception for the Switzerland-Japan Parliamentary Friendship Group. Challenges for Swiss exporters, the importance of Japanese investments in Switzerland, and the new Consulate of Switzerland in Osaka were the topics presented at the event.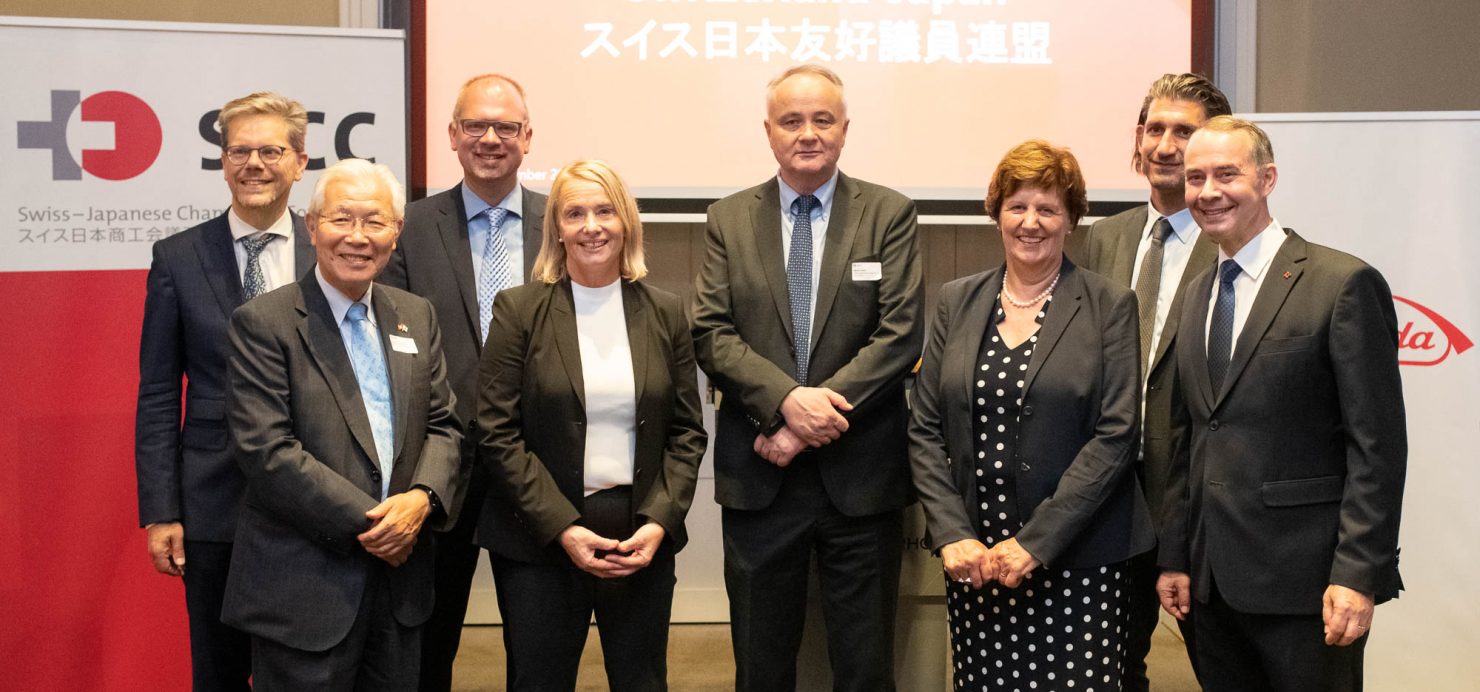 About 30 participants from Switzerland and Japan met at Hotel Schweizerhof in Bern after a long period without any networking events due to the pandemic. SJCC President Martin Herb welcomed members of the Swiss Parliament, the Ambassador of Japan, representatives of Switzerland's Federal Department of Foreign Affairs (FDFA), State Secretariat for Economic Affairs (SECO), and State Secretariat for Education, Research and Innovation (SERI), as well as members of the Swiss-Japanese Chamber of Commerce.
Hope that Japan will soon allow tourists and businesspeople with COVID certificates back into the country
Elisabeth Schneider-Schneiter, a member of the National Council and President of the Switzerland-Japan Parliamentary Friendship Group, started her welcome remarks with a look back at the founding of the Group in 2014, the year in which we celebrated 150 years of diplomatic relations between Switzerland and Japan. Almost seven years later, the Group continues to be very active, currently including 21 parliamentarians from both chambers. Schneider-Schneiter expressed her hope that Japan will soon allow tourists and businesspeople with COVID certificates back into the country. Despite good online communication options, there remains a need for cross-border exchange.
This year's reception not only featured a case study of a Swiss exporter, but it also highlighted the importance of Japanese outward foreign direct investment (FDI), which at the end of 2020 reached USD 76.6 billion in Switzerland. Only the UK and the Netherlands attract more Japanese investment in Europe. The growing importance of bilateral cooperation in the field of research, innovation, and education was another topic at this year's reception.
Japan continues to ignore concerns of Swiss exporters
Discrimination against Swiss companies in Japan is, unfortunately, an ongoing topic of concern, and no progress has been made by the two states to even start discussions on revisions to the bilateral Free Trade and Economic Partnership Agreement (FTEPA), which has been in force since 2009. Against this background, Daniel Weilenmann, the Head of Agricultural and Economic Policy at Emmi Switzerland, illustrated what the new EU-Japan EPA means for Swiss exporters of quality cheese to Japan: a significant reduction in sales since 2019, the year when competitors from EU member states started to benefit from significantly better conditions for exports to Japan. In closing, Weilenmann expressed his hope that Japan will consider removing the obstacles preventing the export of such healthy, quality products, which are in high demand among Japanese consumers. While he conceded that the price must be correct, tariffs of 30 percent for Swiss cheese distort competition and weaken the market position of the entire Swiss dairy industry.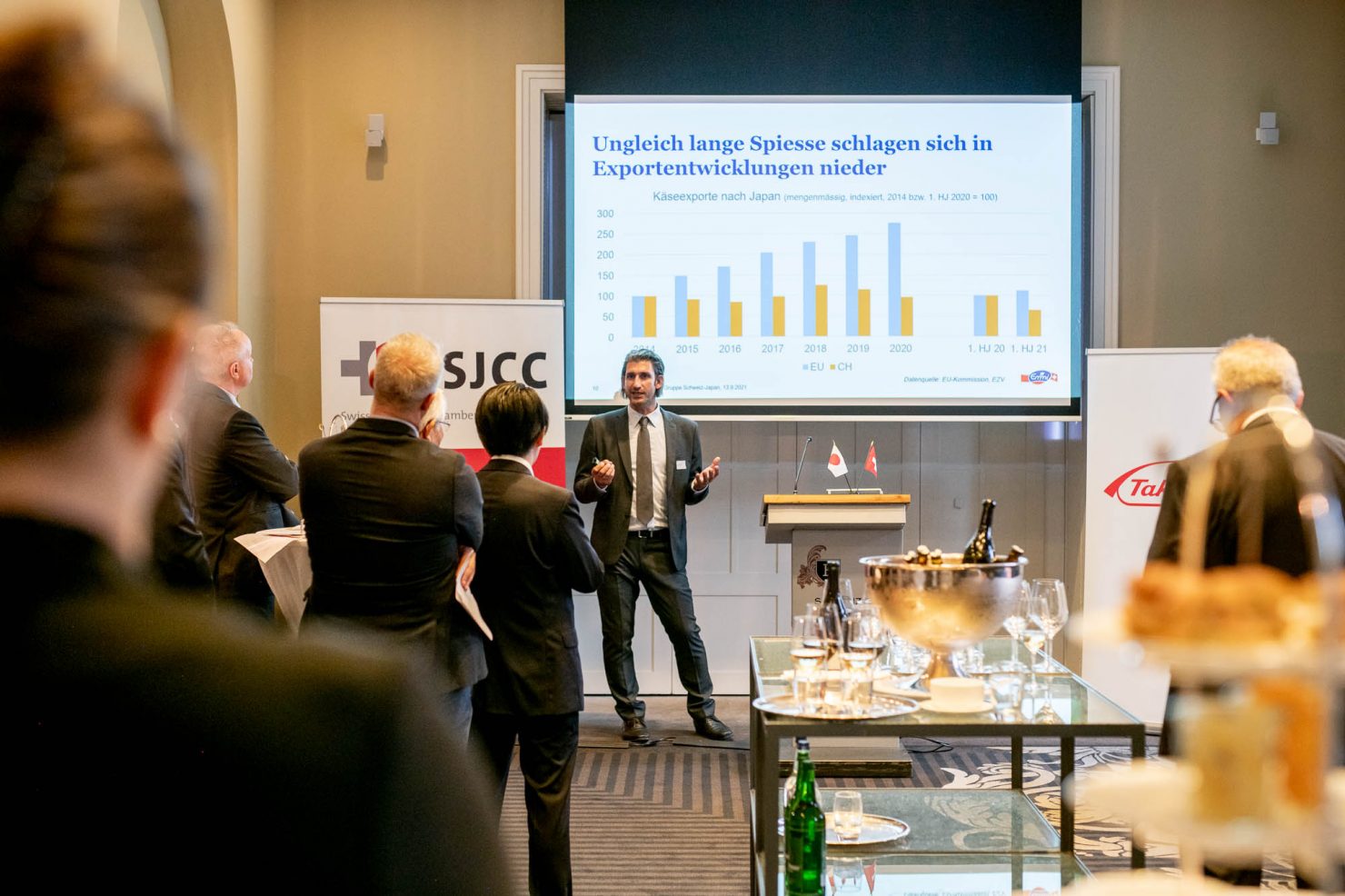 Japanese investments in Switzerland
Many Japanese companies, Takeda Pharma among them, have a long history and impressive continuity. Takeda was founded in 1781 in Doshomachi, the medicine district of Osaka. Today, it is a global biopharmaceutical company with 1,800 employees in Switzerland. Its headquarters are located in Zurich, and there is a production site based in Neuchâtel. Materials for this production site, which runs 24/7, are mostly sourced locally, and products are exported from Switzerland to more than 70 countries around the world. Dr. Andreas Uttenweiler, Head of Patient Value Access & Public Affairs at Takeda Pharma AG, Switzerland, listed some of the company's focus areas as plasma-derived therapies, vaccines, oncology, and rare diseases. He concluded his presentation by highlighting the importance of having seamless access to international markets for imports and exports, as well as access to Swiss and international talent. One of the company's challenges remains the approval by the Swiss Federal Office of Public Health (FOPH) of new substances and their inclusion on the so-called specialities list (Spezialitätenliste).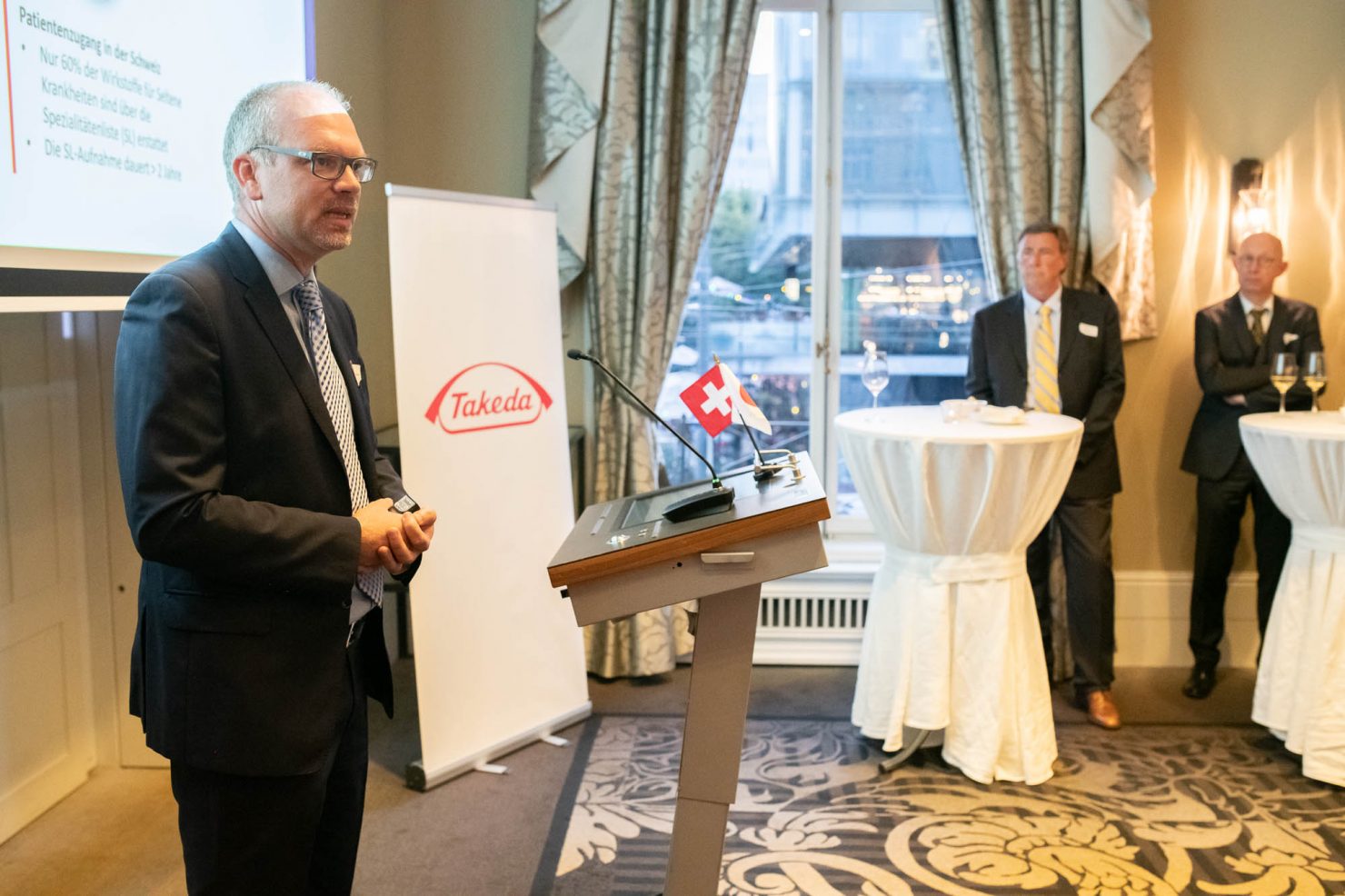 New Consulate of Switzerland in Osaka
Dr. Felix Moesner, an alumnus of the SJCC scholarship fund, knows Japan extremely well. He is returning to Japan – not to Tokyo this time, but Osaka, where he has a new mission: to expand the swissnex network to Japan. The Swiss consul used the opportunity of a short stay in Switzerland to present the aims of this exciting new project: As he explained, there will be three focus areas for swissnex Japan: support for start-ups, emerging technologies dealing with an aging society, and sustainability. The project is also connected to the Osaka World Expo in 2025, which will be dedicated to projects related to the UN SDGs. Moesner invited all participants to visit him in Osaka at the sixth swissnex location to date, as soon as travel is once again possible. He is confident that Switzerland's bilateral research cooperation with Japan, which is a priority country for Switzerland, will be further strengthened by the new Swiss Consulate in Osaka.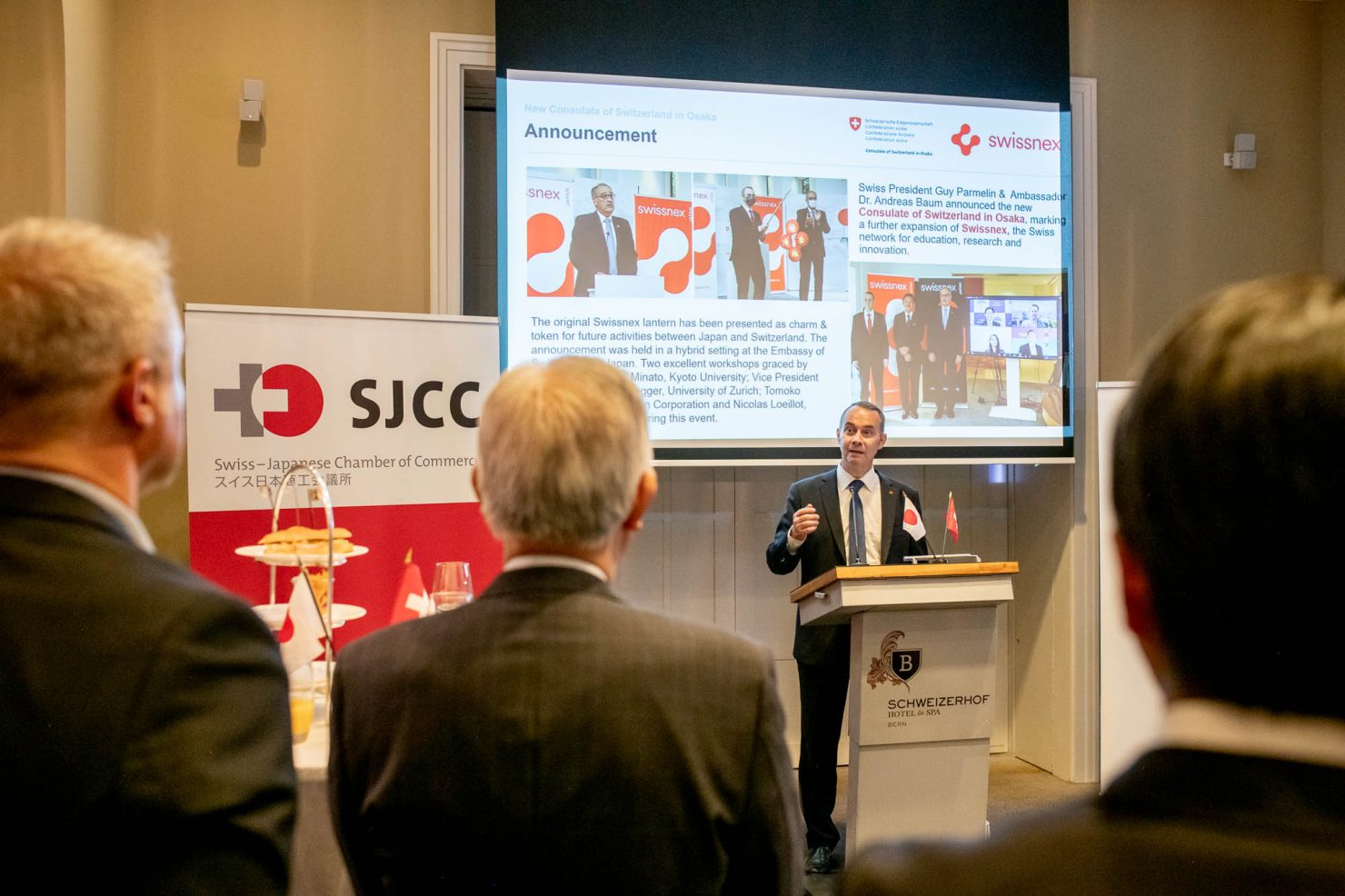 The reception was kindly supported by: