News
/
2021
Paul Dudler, former Chairman of the SJCC Scholarship Fund, has passed away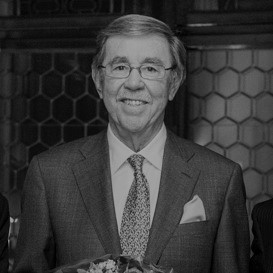 It is with great sadness that the Swiss-Japanese Chamber of Commerce has received the news that the former Chairman of the Scholarship Fund, Mr. Paul Dudler, has passed away on 7 February 2021.
Our deepest thoughts and sympathies are with Paul Dudler's family during this difficult time.
Chairman of the Scholarship Fund 2001-2015
Shortly after Paul Dudler retired as Head of Novartis Japan and returned to Switzerland in December 2000, he joined the Swiss-Japanese Chamber of Commerce to support its work. Already in Japan, he was an active member of the Swiss Chamber of Commerce & Industry in Japan (SCCIJ) that he also led twice as its president.
Dudler started at the SJCC in a time of financial restructuring, but he managed to make the scholarship fund thrive again with generous support from the Mercator Foundation. Many scholarship recipients have met Mr. Dudler in person for the interview – hoping to get this significant support for a year in Japan. For Paul Dudler, this was an activity that he called "enriching" because he could pass on his own Japan experience to students and young professionals willing to add a year of intensive Japanese language study and training as interns in a Japanese or local international company.
The scholarship program is however not only about finance, it is also about helping young graduates with a network in Switzerland and in Japan, cooperation between both chambers to find suitable internships, knowledge sharing among the network of past, current and future alumni and many others – companies, individuals and institutions – that have made this ongoing success story possible. Dudler was able to support all those different aspects of the program with his rich experience and empathy.
175 «Bridge Builders»
When Dudler retired from this role after 15 years, the Fund had awarded a total of 175 scholarships for "a year in Japan" during his chairmanship. This has allowed all these young people to dare starting a year in Japan – for many of them a life changing experience. Paul Dudler liked to call the recipients the "bridge builders" of tomorrow and he devoted all his untiring energy, extensive business experience and passion for Japan in supporting them in the best way possible.
In his Farewell Speech on 7 December 2015, Paul Dudler proudly presented those impressive achievements, as well as the healthy financial situation in which he handed over the Fund to his successor. The reports of the scholarship recipients, some of which are available online, pay tribute to this once in a life time experience made possible through Dudler's great commitment to Swiss-Japanese relations.
Paul Dudler was awarded an honorary membership in the SJCC Alumni Organisation in 2015 and appointed Honorary Chairmen of the Scholarship Fund in 2018. In 2000 he was awarded the Order of ' Sacred Treasure, Gold Rays with Neck Ribbon ' by the Emperor of Japan for his contribution to the promotion of Japanese people's health and the improvement of medical treatment in Japan and to the promotion of mutual understanding between Japan and Switzerland.